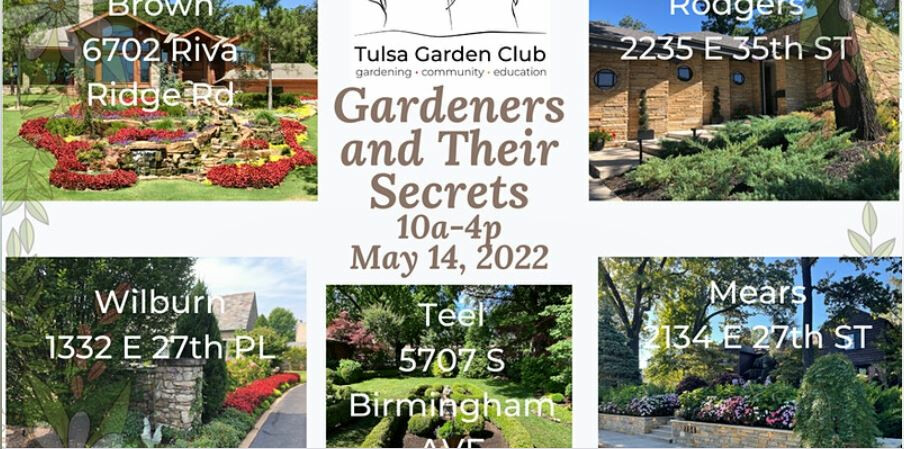 Saturday, May 14, 2022, 10:00 AM - 4:00 PM
The community's most enduring educational garden tour continues on Saturday, May 14, 2022. Five private gardens and three interiors, all located south and mid-town Tulsa, showcase horticulture, herbs, native plantings, creative hardscaping, lighting, water and other unique designs for Green Country living. Tour tickets are exchanged for the official Tour Guide with brief descriptions of each, along with Patron recognition. This walking, self-guided Tour is for visitors to move garden-to-garden as preferred.
$10 Advance ticket thru 3 pm, May 13, 2022. You can go to EventBrite and purchase your ticket online at:
https://www.eventbrite.com/.../71st-annual-garden-tour...
OR
$15 Tour Day ticket may be purchased at any of the featured gardens
Our featured gardens are located in south and mid-town Tulsa:
Date: 5/14
Time: If meeting at the 1st tour location, we will meet at 10 am.
Here is the order we will tour:
1. 2134 East 27th Street
2. 1332 East 27th Place
3. 2235 East 35th Street
4. 6702 Riva Ridge Road
5. 5707 South Birmingham Avenue
Caravan or ride together from Owasso:
Meet at Freedom Church in Owasso at 9:30 am if you are interested in riding together and/or caravan to the 1st location