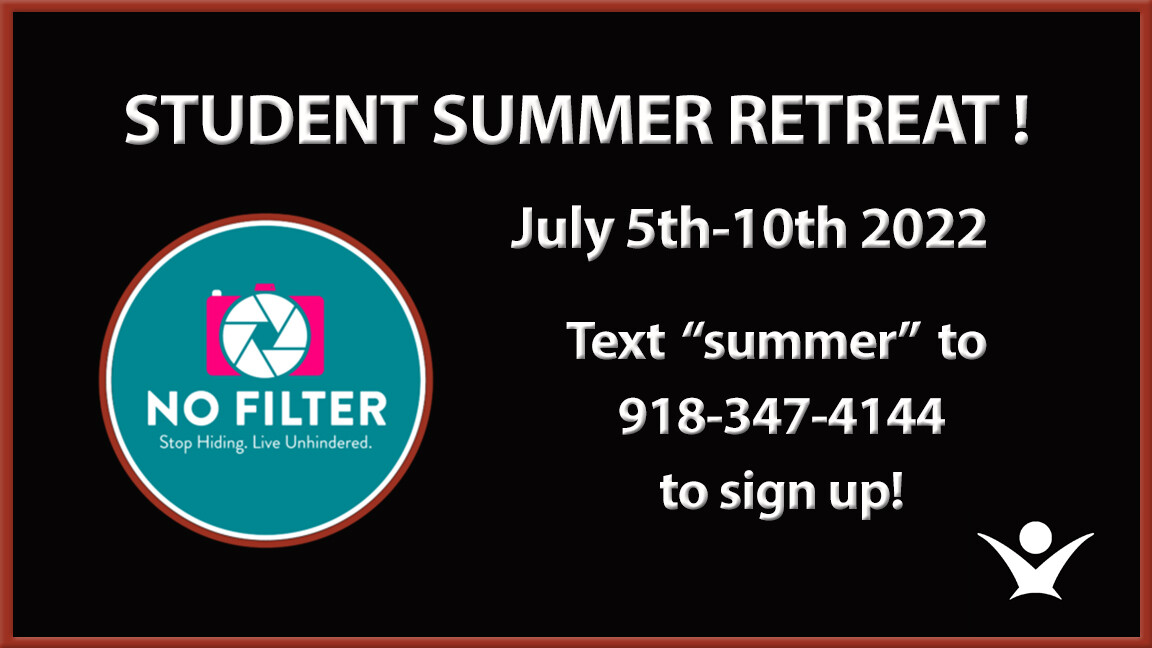 Tuesday, July 05, 2022, 5:30 AM - Sunday, July 10, 2022, 12:00 PM
Freedom Student Summer Retreat is going to be our biggest and best youth event of the year! Join us for an incredible road trip full of fun, adventure, worship and relationship building. Let's celebrate and make memories that will last a lifetime!
The theme for this year's retreat is "No Filter". "Our students are dealing with an identity crisis, often hiding behind filters that distort reality. They may seem harmless, but the truth is that filters are dangerous because they affect our view of God, ourselves, and others. During our 2022 Summer Retreat, we are going to join together to remove our filters, stop hiding, and live unhindered. Join us as we take a deep dive to better understand our true identity in Christ. Let's Go!"
Cost is $285. Students need to sign up with a $100 deposit by June 19th to guarantee their spot. Space after the deadline will be very limited and is not guaranteed.
(This event is for all students who have completed grades 7-12)
Summer Retreat 2022 Packing List
Meet at 5:30 AM
Depart at 6:00 AM
Tuesday July 5th
Bedding: You need to bring sheets, blanket (or sleeping bag), and pillow.
Towels: You need to bring a bath towel and beach towel. We will have some water based activities. You should also bring water shoes or sandals.
Personal Care: Please bring your own sunscreen, a small flashlight, bug spray, and re-fillable water bottle, with your other personal care items
Clothing: Prepare for warm weather. Shorts and t-shirts are great. You will need 1 pair of long pants (jeans or sweats), comfortable walking shoes, one shirt that can get messy, light jacket or hoodie, and your swimsuit. (No speedos for guys. No two pieces that show skin between the pieces for girls.)
Small Backpack: Bring a small draw-sting/sling bag for day trips/outings.
Spending Money: You are responsible for meals on travel days and any incidental snacks or souvenirs. Budgeting $20-$25 per traveling day is sufficient. You can bring extra for our excursions. If you have a financial concern/need, speak directly with Brian.
Snacks: Bring them, but be willing to share. Pick up after yourself. Throw your trash away. Do not create work for someone else.
Other Items: Bring your Bible and a pen. You will need them. If you have a fun travel game for the road trip, please bring it. Van time is fun time! Bring a mask just in case it is needed as not everywhere is as open as it is in Oklahoma.
Electronics: Brian reserves the right for adults to stake out electronic-free times and zones, but you are welcome to bring your phone. Headphones and ear buds are NOT allowed on Freedom trips. We want people to be fully present, enjoying community. Bear in mind, you are 100% responsible for anything of value that is lost, damaged, or stolen.
Departure: We are planning to leave early Tuesday morning July 5th. We will be loading the trailer before we leave, so please be at the church no later than 5:30AM. We will leave at 6:00 AM! Remaining money must be in by Friday, July 1st!
Van Seating: On road trips Freedom has a tradition of continually mixing our seating arrangements in the vans. This is an important part of building and maintaining unity in our group. The senior class of 2023 will be in charge of this process. Please be respectful of the leadership and decisions.
Coupling: One of the main purposes of this retreat is to build community in our group. We want to build lots of connections with one another. This trip is not a couple's retreat. Very few things make people feel more uncomfortable and lonely than watching others 'couple up'. Save that for when we get back home!
Seniors 2023: The rising senior class has planned this trip and they will be the go-to people for most questions and decisions. Get to know the seniors that will be with us this week: Abby, Campbell, Carolina, Charlie, Joe, Julia, Paige, and Taite. If you have questions about the day's schedule or details, ask one of them.
Return: We will return around 1 PM on Sunday, July 10th. Students will call their parents when we are approximately one hour away from home. Please do not ask your students about return times. They often respond without clearing it with drivers or sponsors, which could lead to some unwanted alone time for you in the church parking lot! We often make unannounced stops that change the projected return times, which is unknown to them. Also no trip is officially over until everything is unloaded, vans are cleaned, luggage is claimed and church items are returned to their proper place. This means we will not be ready to dismiss students right when we arrive. Thank you for understanding.
Sponsors: Brian Price, Troy Everett, Jeremy Fern, Gail Mosely, Debbie Price, and Christy Wendel. Please use Brian's cell phone number for emergencies: 918-691-7477.
Parent Information: Brian will have an information sheet for parents regarding trip specifics as we load students on the vans. At the request of the senior class, the final destination is unknown to students, but parents need access to that information. Please do not spill the beans for the students. Thank you. If a parent has questions about the trip or would like access to the specifics prior to departure, please contact Brian.